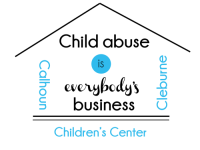 Child Abuse Prevention Month T-Shirts
Our 2020 Child Abuse Prevention / Awareness Month t-shirts are on sale. Get them before they are all gone!
Get One Today!
Services
The Calhoun/Cleburne Children's Center was founded to help children who have suffered from sexual and physical abuse. We work hand in hand with DHR, law enforcement, and prosecutors to protect victims of abuse and fight for justice. The Center provides forensic interviews, extended forensic interviews, formerly known as forensic evaluations, counseling, and victim's advocacy, free of charge. We will be adding a Prevention program beginning in January, and also will be starting support groups for parents and teens. Check back for updates!
Read more…